September 2010
Printer-friendly version
One for the Money
By Janet Evanovich
Fiction 1994
I had a patron recommend this series to me and I finally decided to pick up the first book. It is certainly LOL (laugh out loud)-funny. A dash of humor with mystery makes this a great first book and I fully intend to continue with the rest of the series. If you want a book to read while you're relaxing that doesn't require you to think too much, this will do the trick.
Reviewed by Kristi K
The Girl with the dragon tattoo
By Stieg Larsson
Fiction 2008
I read this book because I wanted to see what all the hype was about. It took me about 100 pages to get into the story, but once I did it really drew me in. If you like mysteries and quirky characters, give this first book in the series a try.
Reviewed by Kristi K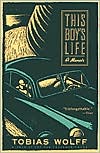 This boy's life
By Tobias Wolff
Nonfiction 1989
Tobias Wolff's memoir about the hard process of growing up is funny, profound and deeply affecting.
Reviewed by ED