Printer-friendly version
Arthas: Rise of the Lich King
By Christie Golden
Fiction 2009
This book is based on the lore from the game World of Warcraft. Being an avid reader of fantasy, I was pleasantly surprised to find the book an intriguing look at a character's fall into darkness. While I've only a passing familiarity with World of Warcraft, it's a good companion to the online game. The author is noted for writing Star Wars novels, so her leap into more epic fantasy provides for some great writing.
Reviewed by Kristi K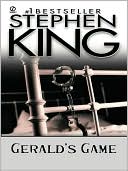 Gerald's game
By Stephen King
Fiction 1992
A psychological horror where a woman ends up handcuffed to a bed after a bedroom escapade goes awry. This is a book to read alone on a dark night that will genuinely give you shivers. There are some passages of gore, but then again, it is Stephen King - master of horror and the macabre.
Reviewed by Kristi K
»